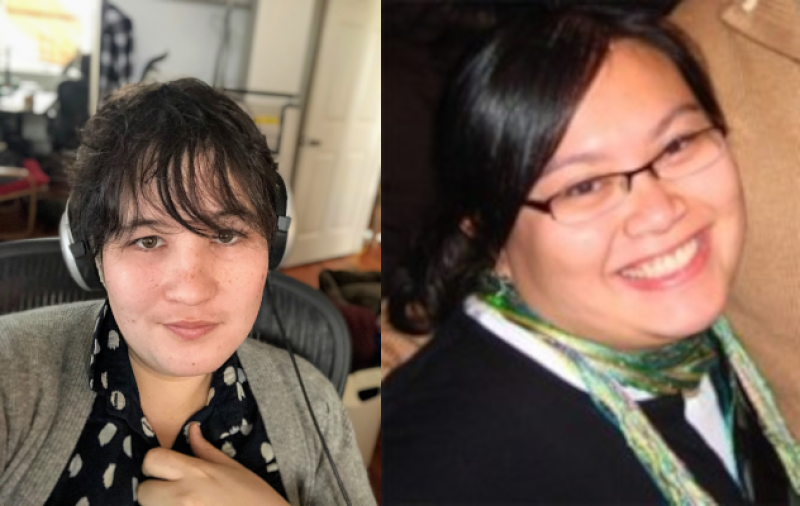 Posted 09.26.2022 by Jack
This summer Palante wished very fond adieus to two longtime worker-owners, Jessie Lee and Nina Reyes, who were part of our cooperative for eight and nine years respectively -- big chunks of the existence of our twelve-year-old business!
Nina worked as a front end web developer, site builder and project manager at Palante; she was also one of the kindest, most caring and most empathetic coworkers we've ever had. She went out of her way time and time again to make sure that her fellow workers felt seen and supported through whatever challenges or hard times they faced. Nina was our resident meeting DJ, whose playlists of songs, perfectly curated for the length of the break in progress, brought levity and spirit to our workdays. We also always enjoyed Zoom visits from Simon and Linus, Nina's cats. (Rest well, Simon Cat!) Nina has gone on to work as a web development specialist at another organization dedicated to social good.
Jessie worked as a front-line tech support person, sysadmin for client and internal infrastructure, and digisec expert. She was full of ideas, innovations, aspirations and humor, regularly cracking the rest of us up during our meetings and Mattermost conversations, and provided regular cameos from her pup Rocko. She has a brilliant mind and we loved watching her work, tinker around, find out what it was all about, and make sure it was all humming along smoothly by the end of the day. She could also bake up a storm, regularly making us hungry with photos of her most recent creations. Jessie has moved on to be a support engineer at a kick-ass open source tech infrastructure company.
We've spent a number of months without them, but those of us lucky enough to have worked with Jessie and Nina still think of them as part of the Palante family. They are greatly missed!